Progressive Web Apps (PWAs)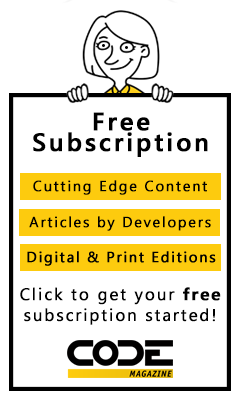 Sahil Malik is a Microsoft MVP, INETA speaker, a .NET author, consultant, and trainer, and a well-rounded overweight geek. He has a passion for SharePoint, data access, and application architecture.


Sahil loves interacting with fellow geeks in real time. His talks are full of humor and practical nuggets. His talks tend to get very highly charged, fast moving, and highly interactive.

You should check out his blog at http://blah.winsmarts.com
This article was published in:
Sahil Malik
Sahil Malik is a Microsoft MVP, INETA speaker, a .NET author, consultant, and trainer, and a well-rounded overweight geek. He has a passion for SharePoint, data access, and application architecture.


Sahil loves interacting with fellow geeks in real time. His talks are full of humor and practical nuggets. His talks tend to get very highly charged, fast moving, and highly interactive.

You should check out his blog at http://blah.winsmarts.com
This article was published in:

Have additional technical questions?
Get help from the experts at CODE Magazine - sign up for our free hour of consulting!
Contact CODE Consulting at techhelp@codemag.com.
Got something to say? Leave a comment!