Into the Future
By Ellen Whitney and Markus Egger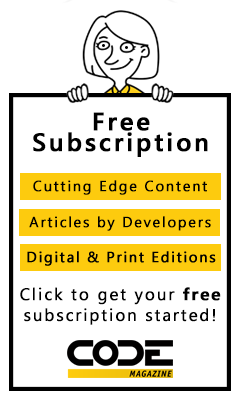 Ellen Whitney
Ellen Whitney is Vice President of EPS Software Corporation, as well as a senior developer specializing in the design and implementation of object-oriented software systems. Ellen's thorough knowledge of the development process has benefited many clients as well as having made her a lecturer and international author. She is also Managing Editor of CODE Magazine and has been architecting software since 1989. In her current role she works extensively with the Sales and Marketing Departments and is responsible for setting the overall goals and direction of the company.
Markus Egger
Markus is the founder and publisher of CODE Magazine and is EPS President and Chief Software Architect. He is also a Microsoft RD (Regional Director) and the one of the longest (if not THE longest) running Microsoft MVP (Most Valuable Professional). Markus is also a renowned speaker and author.

Markus spends most of his time writing production code. Markus' client list contains some of the world's largest companies, including many on the Fortune 500. He's worked as a contractor for Microsoft (including the Visual Studio team) and presented at local user groups and major events, such as MS TechEd. Markus has been published extensively including MSDN Magazine, Visual Studio Magazine, his own CODE Magazine, and much more. Markus is a supporter of communities in North America, Europe, and beyond.

Markus focuses on development in .NET (Windows, Web, Windows Phone, and WinRT) as well as Android and iOS. He is passionate about overall application architecture, SOA, user interfaces, general development productivity, and building maintainable and reusable systems.

In his spare time, Markus is an avid windsurfer, scuba diver, ice hockey player, golfer and world traveler. On a rainy day, he is known to enjoy a good game on his PC or Xbox.
This article was published in:
This article was filed under: