Windows 8 Resources
Are you a developer who is interested in learning about Windows 8? Brought to you by CODE Consulting and CODE Magazine, this page contains links to various Windows 8 resources.
State of .NET - Windows 8 Tour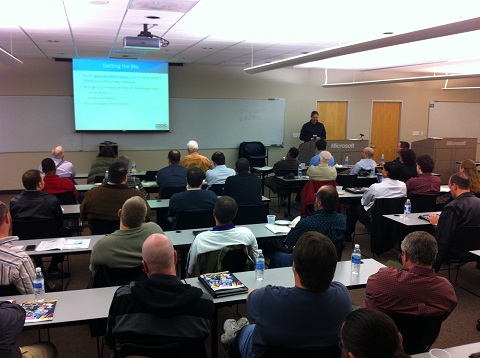 Our free State of .NET Events are designed for developers and IT decision makers. Join Markus Egger, Microsoft RD and one of the longest running MVPs, for an afternoon of free information. This is NOT marketing hype! Markus will discuss which tecnologies are worth investing time and money in, and which ones to avoid, with an in depth look at Windows 8.
Download Material from Past Events
Did you miss the most recent State of .NET - Windows 8 Tour?
No problem! You can download the latest slides and code samples and watch the videos.
Windows 8 Events
State of .NET Tour with Markus Egger!

Exact Locations TBD

Friday, July 01, 2016 - Only 5 weeks to go!

We will be doing this event in multiple locations in Spring 2016! Please check back soon for info! A free, unbiased look at the current and future development! The industry is in a state of flux. What does that mean for your software projects today and tomorrow? Will your skills be outdated? Will your current investment become obsolete? What should you focus on right now? And what will become important a year or two down the road? What technologies do you need to learn?
Windows 8 Tools by CODE Consulting
XAML Dialect Comparer
This tool allows for comparison of different XAML dialects and utilized framework namespaces. Want to know if your Silverlight project will translate well to Windows 8? And whether your Windows 8 assets can be reused in your Windows Phone app? What about that WPF app?
This helpful tool provides some interesting metrics. Note that it only compares types/classes and all their members. It makes no comparison of behavior differences between classes and members of identical names.
Download the XAML Dialect Comparer here.
Contact Us!
Have questions about Windows 8?
Don't hesitate to contact us!
Windows 8 Specials
Mentoring & Custom Training

Get 20 Hours of Mentoring for only $3,000!

CODE Consulting is proud to announce a no risk, introductory offer aimed at helping your team get started on your next project!

With the leading industry experts at CODE, enjoy 20 hours of mentoring and access to our experts for ONLY $3,000!
Whether it's general architecture and design questions, CODE Framework related, WPF, ASP.NET, C#, SOA, SQL, HTML, Windows 8 or Mobile (everything .NET and iOS and Android too!) our experts can help you with your project.
Email info@codemag.com or call 832-717-4445 ext. 13 for more information!
Current Specials: 1
Additional CODE Training Classes
For a complete list of all our scheduled classes, and to get an overview of our custom training, please visit our training page:
CODE Framework

Developers! Check out CODE Magazine's free, open-source CODE Framework available from CodePlex and through the Visual Studio Extensions Manager. The CODE Framework consists of various components and tools that help developers with common aspects of business application development, simplified SOA, WPF, data access, and much more. Our purpose for the CODE Framework is to enable productive, flexible, and highly maintainable business application development. Give it a try and see what everyone is talking about! Get more information here:
CODE Services





This is a short selection from the wide range of services from CODE Consulting. For a complete list of our services, click here.
Do you like the State of .NET Tours?
Want the latest info? Get special offers? Follow us!


For additional information, please visit our State of .NET page on Facebook:
facebook.com/stateofdotnet